Tax reliefs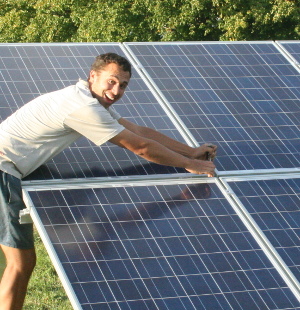 Buy shares
The minimum shareholding is £500 (£250 for Reach residents). The maximum is £20,000.
EIS and SEIS Tax reliefs may allow you to reduce your tax liability by between 30% and 50% of the value of the shares you buy in Reach Community Solar Farm.
EIS and SEIS tax reliefs
The 'Enterprise Investment Scheme' (EIS) and 'Seed Enterprise Investment Scheme' (SEIS) are intended to help attract investment in small companies by offering tax reliefs to investors who purchase new shares in those companies.
SEIS relief permits a taxpayer who has purchased shares to reduce their tax liability by up to 50% of the value of the shares. So if you are issued, say, £1000 of SEIS-eligible shares, and owed £800 in tax for the tax year in which the shares are issued, you would be able to reduce that by £500 to just £300. Qualifying companies can offer up to £150,000 of shares under SEIS.
EIS relief is similarly structured, but the rate of tax relief is set at 30% rather than 50%. So for a purchase of £1000 of qualifying shares the tax relief would be £300 (assuming an investor had at least £300 of income tax liability against which to set the relief). Companies can raise much larger sums of money under EIS-eligible share issues, so in practice SEIS is usually applied for on the first £150,000 of shares, and EIS for the remainder of shares issued.
There are details of the tax relief schemes at https://www.gov.uk/business-tax/investment-schemes.
You should note that there is a minimum investment of £500 required to gain SEIS tax relief. There is no minimum investment for EIS relief however.
Upcoming changes
The Chancellor recently announced changes to tax relief schemes. From the next financial year shares in Community Energy Schemes will no longer be eligible for EIS or SEIS reliefs. Although a new tax relief - Social Investment Tax Relief - is being introduced to encourage schemes which benefit the community, the generation of electricity which receives feed-in tariff payments is not a permitted trading activity.
Shares issued before the end of the financial year should not be affected, and should be eligible for EIS or SEIS reliefs if all the qualifying criteria are met.
Advance assurance
We have received advance assurance from HMRC that shares in the solar farm should be eligible for EIS and SEIS reliefs, as long as we meet strict conditions. You can read the letter from HMRC.
The conditions for SEIS include a requirement that at least 70% of the funds raised in our first issue of £150,000 shares must be spent before we issue any further shares. They also include a requirement that we must not, at the time of issuing shares, hold more than £200,000 in gross assets, to include any money received for shares to be issued in a later share offer.
Whilst we believe we should be able to meet these conditions, you should be aware that there is a risk we may not - and we cannot in any case actually apply for the EIS or SEIS accreditation before the shares are issued. As with any investment, you should consider taking financial advice and should weigh up carefully the risks and benefits.
You should note that some of the relief may be withdrawn by HMRC if investors receive significant value from the company in the form of interest in the first three years of the scheme. The rules on the withdrawal of relief can be found on the HMRC tax manual website. We do not expect these reductions to apply to most investors in the scheme - and where reductions do apply, they are likely to be small. You should however familiarise yourself with the rules in question if you believe they may affect you.
How we will issue shares
We want as many people as possible to be able to benefit from the higher rate of SEIS relief. We therefore intend to issue the first £150,000 of shares when we have received applications for around £300,000 of shares in total. Applicants who have applied for only £500 of shares would get their full application in this share issue. Applicants who have applied for more than £500 would get approximately half of their application in the first issue of shares, and the remainder in a second, later issue of shares. However, both share issues may be subject to a cap on the maximum investment in order that we are not oversubscribed.
For example, if you apply for £2000 of shares, you may receive £1000 of shares in the first issue, which may be eligible for SEIS relief at 50% (£500). You may then receive a further £1000 of shares in the second issue, which may be eligible for EIS relief at 30% (£300). You could therefore save £800 on your tax bill, so the £2000 of shares would effectively have cost you only £1200.
If you have questions about tax reliefs, please email us at info@reachsolarfarm.co.uk